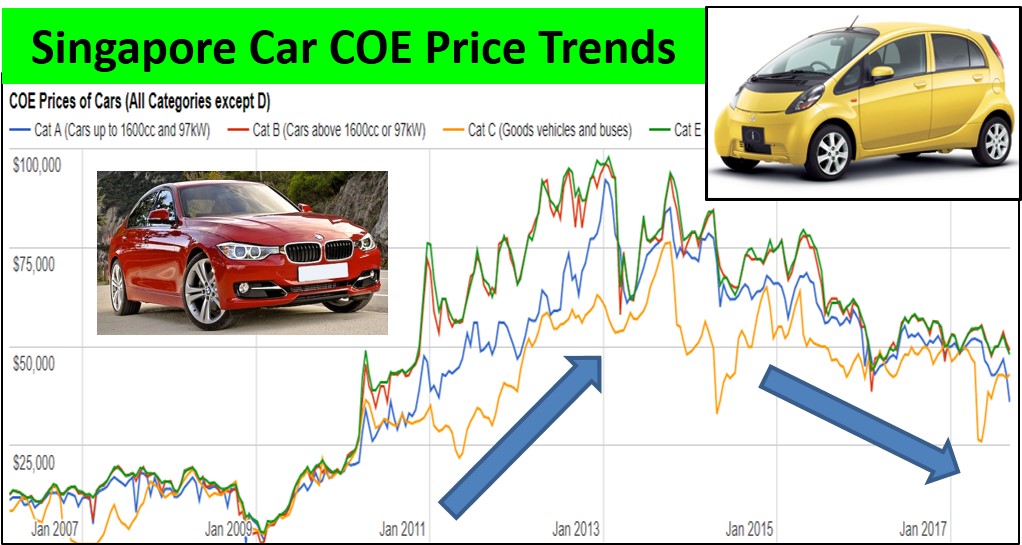 Singapore car COE system is a unique way to regulate the number of cars on the road based on demand and supply of cars.  Many Singaporeans hope to buy low for car COE as its price could contribute to about 50% of a new car price.  Although car COE is not really an investment, its prices vary with stock market and economic cycle, together with human emotions of greed and fear, we could apply investment methods to buy low for car COE.
After dropping to historical low price during the global financial crisis in 2009, car COE was bullish till it reached the peak in Jan 2013. As a result of Singapore economy slowdown with low inflation rate, bearish property market and stagnant stock market, car COE has been bearish in price trends from year 2013 till now. The small car COE (Category A) has dropped from $92k to $36k (as of 6 Sep 2017), nearly 1/3 of the price (see 2 COE charts, source from coe.sgcharts.com).
COE prices usually follow Singapore economic cycle which affects the demand and supply of cars.  The private hire cars (Grab & Uber) have disturbed the natural COE price cycle in the last few years, supporting the falling COE prices but prolonging the bearish period of COE prices.  With oversupply of taxis and private hire cars currently, there is a significant drop in COE prices, especially for Category A, breaking the critical support of $40k, trending downwards, setting a 7-year low price.
In fact, it is possible to make money from changes in COE prices. Yearly car depreciation is about $12k (about $1k/month) for a new car of $120k. If buying car with COE at low optimism with uptrend (eg. year 2009-2010), it is possible to have $25k yearly capital gains in car COE alone, more than enough to offset the car with COE depreciation.
For those with older car and COE expiring soon, one strategy is to renew 5 or 10 years of COE (using last 3 months moving average of car COE price) first, waiting for the global financial crisis to come during this period, then deregister the old car with higher COE (get back the pro-rated high COE value for years remaining), buying a new car with COE at much lower price (eg. $10k or $20k lower). This is similar to a shorting strategy in stock investment but applying in car COE.
PARF value is the remaining car value (from car value + remaining years of COE) when one deregisters car. After 10 years, PARF value for small / medium sizes car could be around $10k (depending on type of car). If one renews only COE but keeping old car, this $10k PARF value will be lost.  If 10 years COE is around $40k, adding the "lost" in PARF of $10k, total is around $50k, yearly depreciation is around $5k, still cheaper than $12k/year depreciation of a new car. One does not need to hold the old car for too long, when COE has chance to drop another $10k-$20k, lost in PARF for old car could be recovered easily when getting a new car at lower COE (deregister the old car with extended COE, get back the high COE price for years remaining). If COE price goes up, it is also a good deal to only pay for renewed COE, not price of a new car.  This assumes the old car condition is still ok, able to operate for a few years without major issue (high maintenance cost), then worth the effort to renew COE and waiting for global financial crisis to change a new car in future.
Similar to stock market. we don't predict the future of COE price. From probability point of view, COE is at downtrend for medium term, breaking the support of $40k for category A. At the same time, Singapore economy is recovering, therefore this downtrend may not drop to very low unless coupled with global financial crisis.
Is it time to enter to buy low for new car or bid for COE?  Similar to investment, the decision has to match with personality and physical constraints.  If a car driver has to renew COE soon, then the current intermediate price correction is a good opportunity to have some discount, especially for cars in Category A.  However, the current 7-year low car COE price is still far from the low optimism target of car COE. If a driver is patient enough, willing to stop driving for a period of time, similar to waiting for investment opportunity, the next global financial crisis could help to create an abnormal low COE prices for entry.
A wise investor would know when to buy truly low for stocks, properties and even car with COE at abnormal low price by applying investment methods of Optimism + FA (Fundamental Analysis) + TA (Technical Analysis) + PA (Personal analysis).