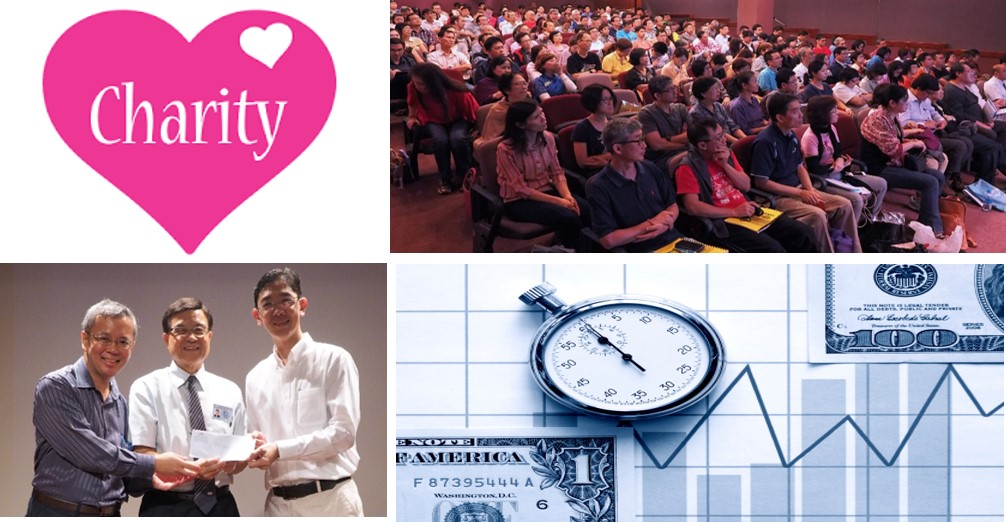 Dr Tee, Ein55 Mentor & Graduates have together organised 5 charity investment courses (REITs/Business Trusts in Nov 2015 and May 2017, High Dividend stocks in Mar 2016 and Oct 2017, and Discounted NAV stocks in Sep 2016) in the past 2 years, donating net income of around $90,500 to Tzu Chi 慈济 (Singapore). We hope to inspire more Ein55 Graduates to reach out the society, helping others who are in need.  More importantly, they have also learned the secrets of making money through investment. When more Ein55 Graduates are successful financially, they could also contribute back to the society to help more people in future.
Here are key learning points from the recent Charity Course on High Dividend Stocks:
1) Five Characteristics of High Dividend Yield Stocks
1.1) Mature Company that have already growth to sizable scale, meaning Equity > US$1B, Market Cap >US$1B, with stable Revenue >US$1B
1.2) Dividend pay-out ratio of at least 50% or more
1.3) Fundamentally remain strong and robust for many years to come because company have certain economy moat.
1.4) Low CAPEX business
1.5) Able to generate stable Free Cash Flow
2) Seven Myths about Dividend Investing
Myth:  Stock prices are adjusted downward when dividends are paid.
Truth: Stock prices are adjusted on XD date, not on dividend payment date.
Myth:   Dividend stocks are always safe
Truth:  A company can stop payout of dividend when business is declining, may not be always safe.
Myth:  Companies that pay dividends limit growth
Truth: The growth depends on business concept / innovation, leading to consistent profit and cash flow to pay for dividend. A company could have both dividend payment and high business growth at the same time.
Myth:  The highest yielding stocks are the best
Truth: It can be risky because high yield stocks could have weak business with falling share prices.
Myth:  Dividends are guaranteed upon company announcement
Truth:  Company can cancel the dividend payout even after announcement
Myth:  Investors should buy the cheapest dividend stocks
Truth:  Dividend investor intention is to have low risk investment, better pick up healthy dividend stock
Myth:  Dividend stocks are boring
Truth: Dividend stocks are still investment that could rise and drop at any time, requiring investors to pay close attention to monitor and follow up the stocks.  An investor should not feel boring when receiving consistent dividend payment to their bank accounts as passive incomes.
——————————————————————————— 
We should drive the money (helping others when you are successful), not driven by the money (making money only for own gain).  Investors should learn the unique Optimism Strategies with FA (Fundamental Analysis) + TA (Technical Analysis) + PA (Personal Analysis) developed by Dr Tee to choose strong global stocks, buying them at low price, then holding for consistent dividend payout or selling for high capital gains.  High-quality free stock investment courses are provided by Dr Tee to the public.