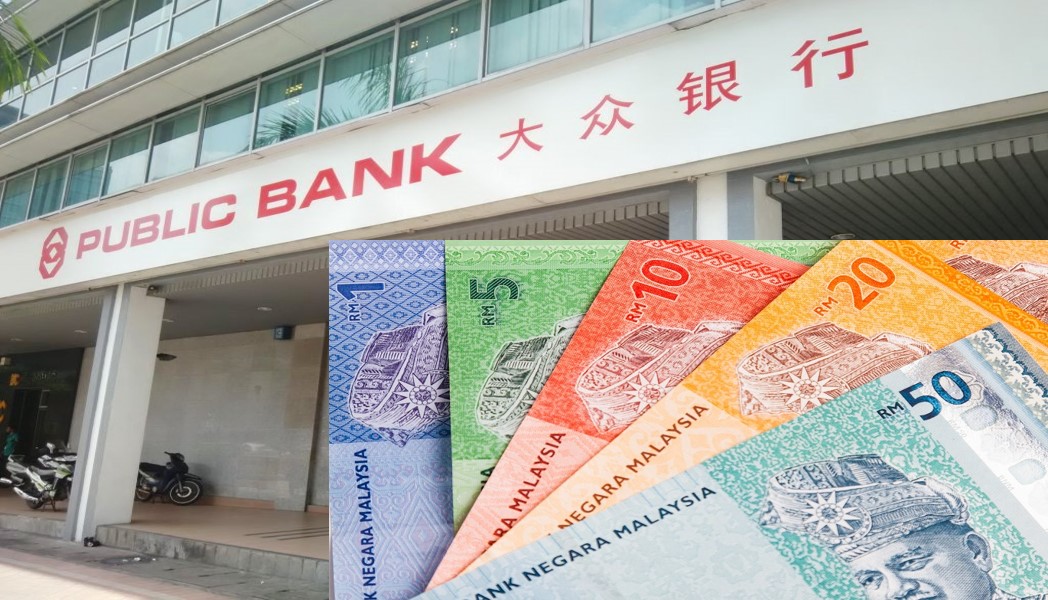 Due to slowdown in economy in Malaysia, combined with Oil & Gas crisis and falling of Ringgit currency, many giant stocks in Malaysia are at attractive low price.  Public Bank (1295.KL) is a growing bank in Malaysia, share price went up 5 times from $4 to $20 in the last 15 years while earning per share (EPS) went up about 3 times consistently over the same period with strong ROE (see chart below).
Following traditional value investing principle, it is hard to buy growing stocks below the intrinsic values, unless there is a major market crisis.  Public Bank share price has been stable in the last few years but Ein55 Optimism has dropped to 24% while the earning is still growing steadily.  It means the stock has 24% downside and 76% upside.  Ein55 Optimism is a probability calculator, no one could know the future, but we may use knowledge of probability wisely to protect our investment.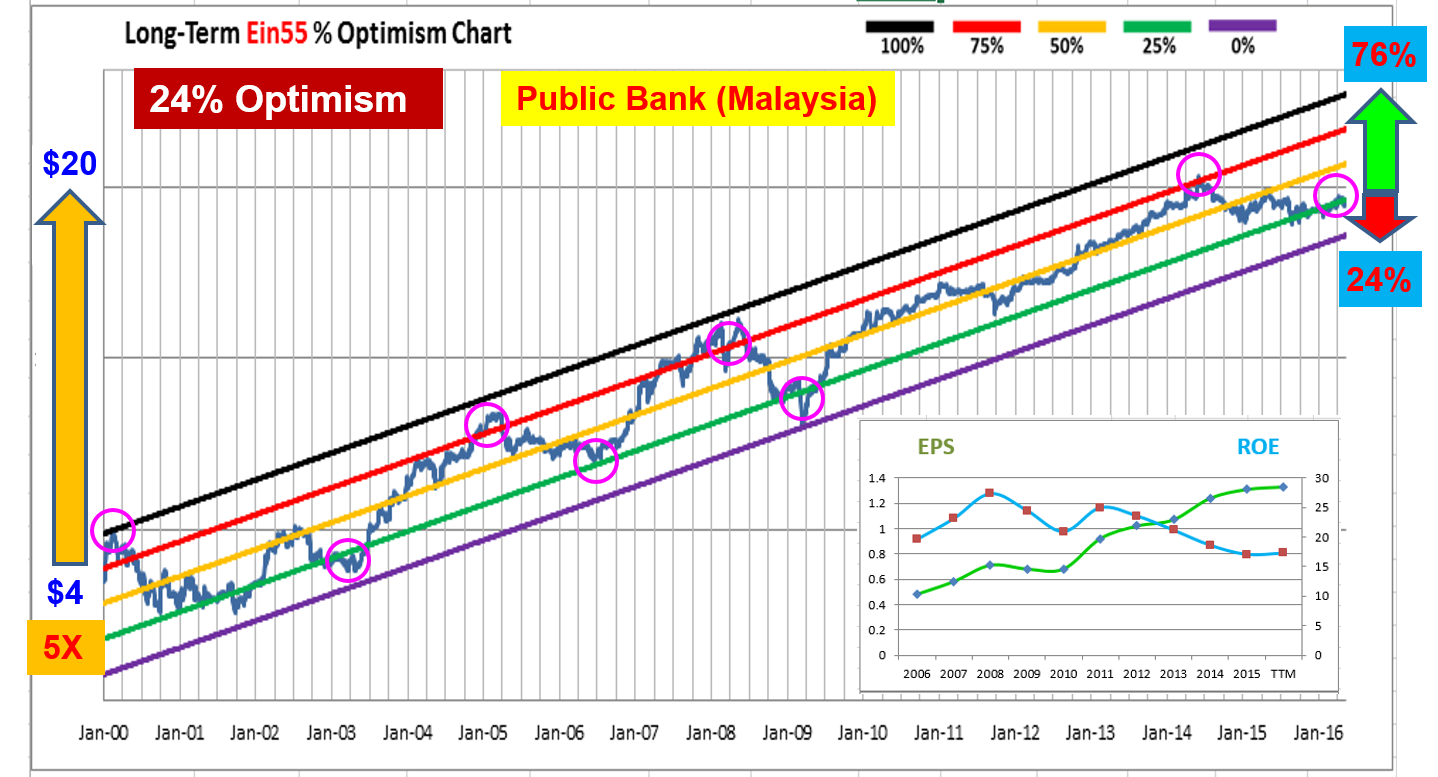 While waiting for the giant stock to recover, the Public Bank pays about 3% dividend yearly to shareholders, which is comparable or better than interest rate of fixed deposit in bank which has no capital appreciation.  One should learn to take calculated risk, investing in bank stocks (as a partner of bank), instead of lending money as cheap loan to bank (as a customer of bank), because the difference in long term investment return is tremendous: average of 15% yearly return in stock investment vs 3% yearly return in fixed deposit return.
Investment in good bank stocks are suitable for longer term investors who have holding power of a few years.  At the moment, Public Bank is an opportunity with Level-2 (sector) crisis.  If one could wait even more patiently, Level-3 (country) and Level-4 (global) crisis is even a better time to buy Public Bank and other giant stocks globally.  Ein55 Optimism investing strategies developed by Dr Tee will help to grab these golden opportunities in future.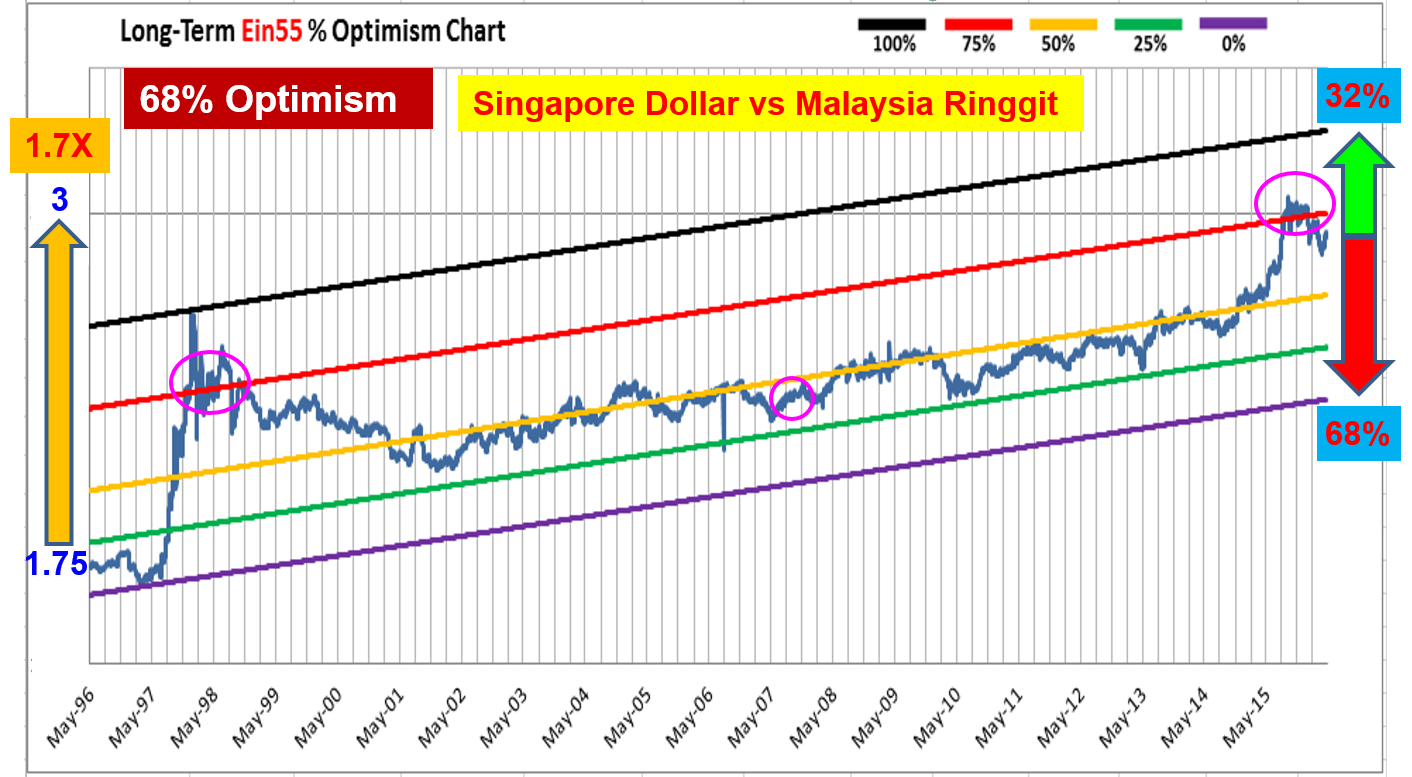 There is additional advantage for Singaporeans to invest in Malaysia stock market from forex perspective.  SGD vs Ringgit has reached a new high of 3.0 in the past 1 year, this is the second weakest time of Ringgit in the past 20 years (since Asian Financial Crisis in 1997, see forex optimism chart above). This implies that Ringgit has higher potential to grow. If one could buy a Malaysian giant stock at low optimism, holding until high optimism of stock price one day, likely the Ringgit will be stronger at that time.  We could have double advantages, enjoying higher potential upsides of both low optimism of Malaysian stocks and low optimism of Ringgit (high Optimism of SGD).
We should learn to find the top 10 global bank stocks with excellent business for our investment portfolio, buying at discounted price at low optimism, ahead of other potential big buyers who are also looking for these valuable assets.  Certain Bank stocks could be in crisis when there is global economy slowdown with high debt.  Therefore, we should only consider giant Bank stocks with strong fundamentals, not just any stock with price discount, buy low and sell high or hold patiently for both capital appreciation and passive income.