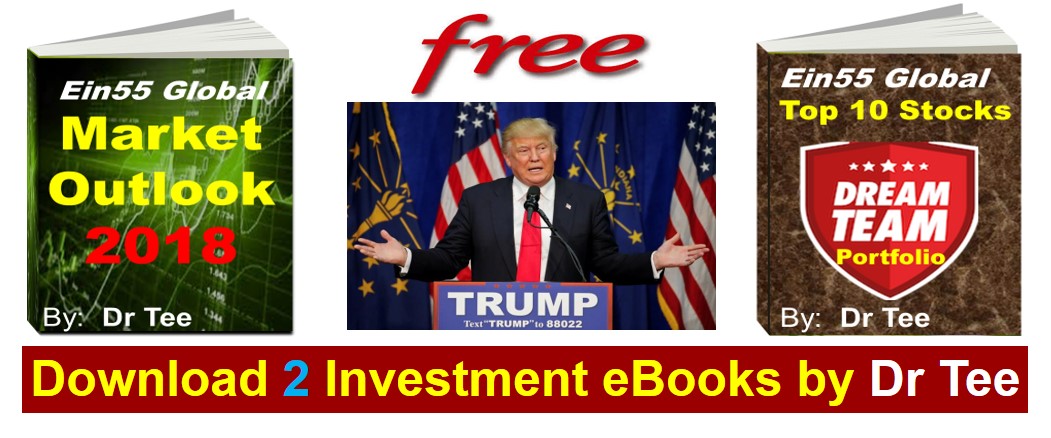 Fresh from Oven: Download the latest 2 eBooks by Dr Tee on (1) "Global Market Outlook 2018", covering comprehensive investment topics: Stock, Property, Commodity, Forex, Bond and Political Economy & (2) "Dream Team Portfolio" with Top 10 global stocks for capital gains and passive incomes. Past readers have benefited, learning Simple and Powerful strategies which deliver incredible results in stocks.
Are you worried or excited about the current global stock market, especially with the controversial US President, Donald Trump?  Every crisis is an opportunity for investing. You will learn useful methods step by step from 2 valuable eBooks by Dr Tee which work in stock market. Take action now to surprise yourself!
Dr Tee 刚完成2本投资秘籍。《2018年环球市场展望》书内覆盖很多在环球主要市场 (美国、新加坡、香港、中国、欧洲) 的投资议题及提供解决方法。《10大梦幻股票》书则分享了各种实用投资策略于10大高潜能股票。很多读者已经从Dr Tee过去发表的股票投资书中受惠,大家可在Dr Tee 的最新报告中洞悉环球市场目前面对的风险及机遇。

eBook #1: Global Stock Market Outlook 2018 《2018年环球市场展望》
Mass Market Sentiment Survey (大众市场情绪调查)
Review of Global Stock Markets (环球股市回顾)
US Market Outlook (美国市场展望)
Regional Market Outlook (Europe, China, Hong Kong) (区域市场展望)
Singapore Market Outlook (Stock & Property) (新加坡市场展望)
Conclusions and Recommendations (总结及建议)
eBook #2: Top 10 Global Stocks – Dream Team Portfolio 《10大梦幻股票》
Personalized Stock Investment Portfolio (个人化股票投资组合)
Ein55 Global Top 10 Stocks (10大全球高潜能股票)
Summary of Actions (投资方向总结)

The safest time to buy a stock is when everyone is afraid the sky will fall down while the business is still operating normally with consistent performance. This could be a rare opportunity to buy during a crisis, we should learn how to take this advantage to truly buy low sell high.
The key of stock trading and investing is to match our goals with our personalities, there are at least 10 different strategies to choose.  When Ein55 Optimism Strategies are combined with Fundamental Analysis (value investing & growth investing), Technical Analysis (support / resistance / trends), and Personal Analysis (mind control of greed and fear), it is very powerful when one is able to take the right action (Buy, Hold, Sell, Wait or Short) at the right time aligning with own personality.
The unique Optimism Strategy developed by Dr Tee provides a special advantage to know which investment (stock, forex, property, commodity, bond, etc) to buy safely, when to buy, when to sell, including option of long term holding.  So far over 10,000 audience have benefited from Dr Tee high quality free courses to the public.  Take action now to invest in your financial knowledge, starting your journey towards financial freedom.
最好的进场时机是当大部分人在惶恐不安,但业务依然在正常运作及表现稳健的时候。这是难得一遇的大好时机,我们应学习如何从中受惠,真真正正做到低买高卖。
Dr Tee建立的乐观指数策略让投资者知道哪种投资(股票、外汇、产业、商品、债券等) 可以安全进场;何时买入;何时卖出;或选择长期持守。迄今已经有超过1万名人士从Dr Tee为大众提供的高质素免费课程中受惠。马上行动,利用你的金融知识进行投资,开始你迈向财务自由之旅。
Bonus #1 for Readers:  FREE Investment Courses by Dr Tee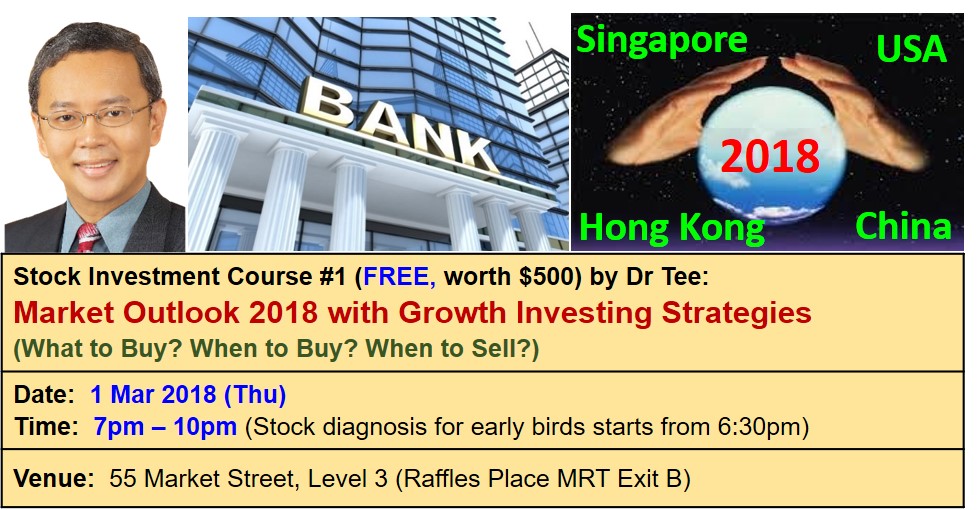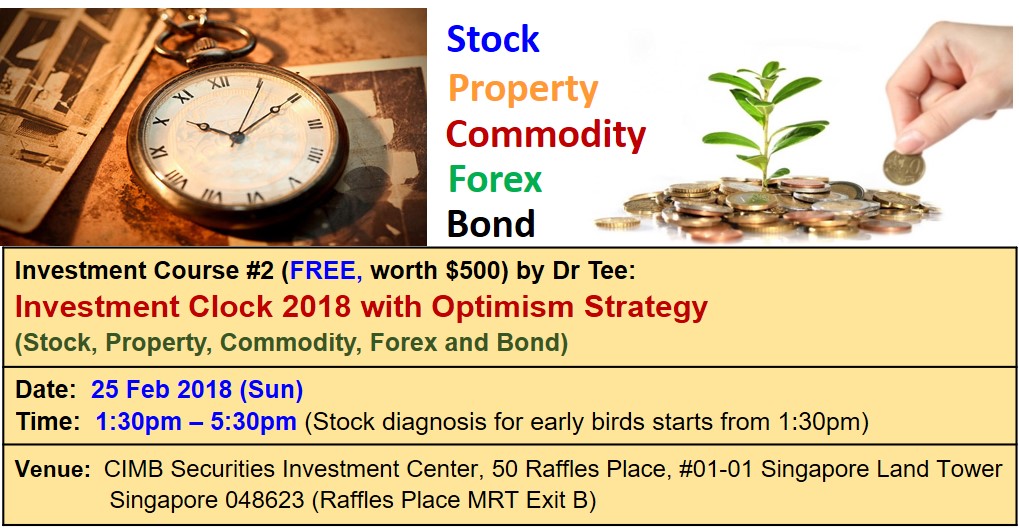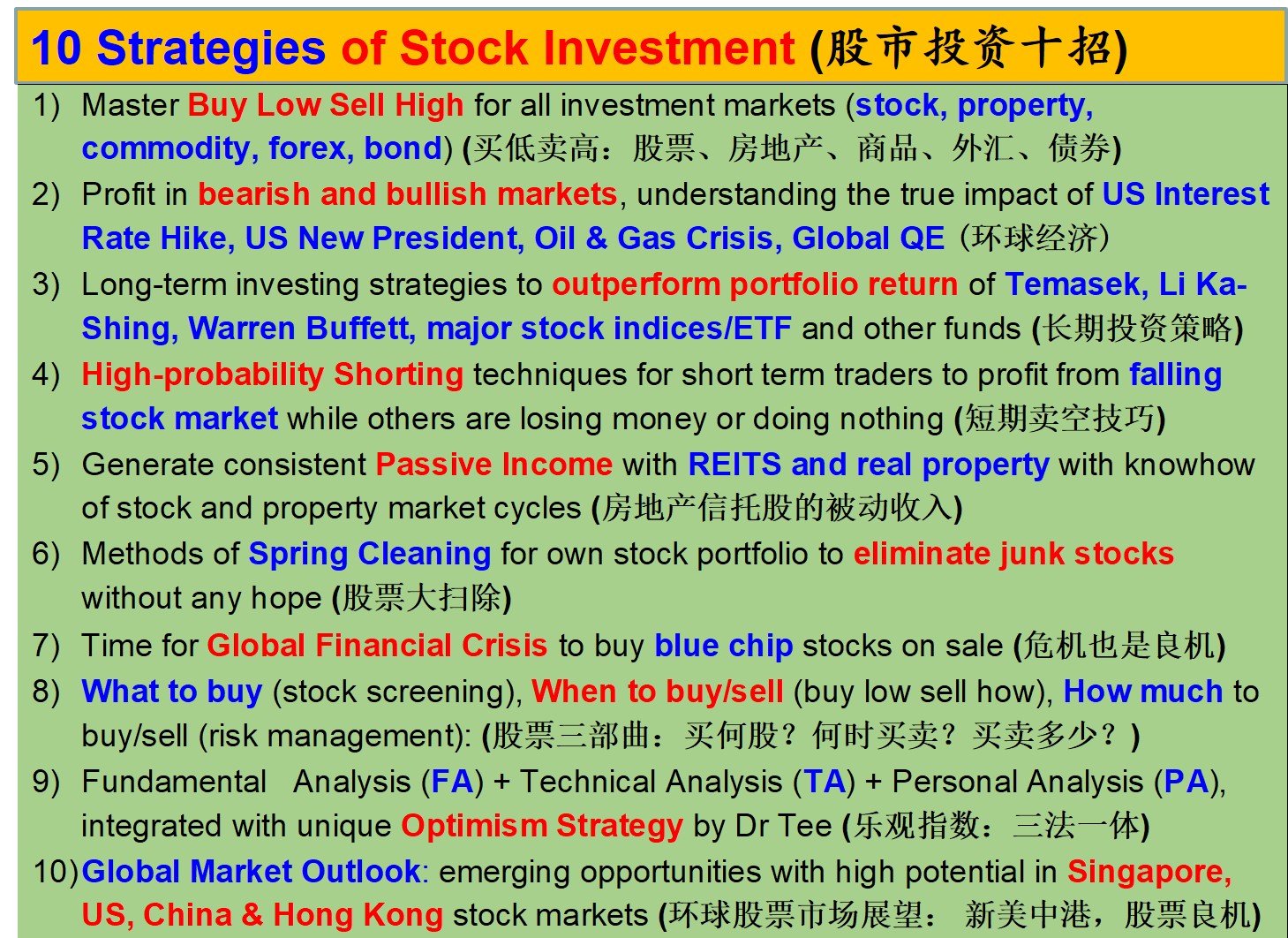 Bonus #2 for Readers:  Dr Tee Investment Forum with over 5000 members (Private Group)
(Please click "JOIN" with link above and wait for Admin approval of membership)
Market Outlook (stocks, properties, bonds, forex, commodities, macroeconomy, etc)
市场展望 (股票、房地产、债券、外汇、商品、宏观经济等)
Optimism/ Fundamental / Technical / Personal Analyses
(乐观指数 / 基本分析 / 技术分析 / 个人分析)
Investment risks & opportunities (投资风险及机遇)
Dr Tee graduates events and activities updates (Dr Tee学员活动最新消息)